2-Day City Sampler Trip Chicago
Day 1 You'll See:
Day 2 You'll See:
Not everybody has all the time they would like to to see the Windy City, which is why we have created a small, easy, and extremely fun taste of Chicago for your group that we like to call the 2-Day City Sampler. On this weekend getaway your group will be able to explore the most fun, entertaining, and educational city hotspots while taking in that iconic city skyline and urban hustle and bustle these lakeside inhabitants are used to!
Explore the somber Holocaust Museum, learn about science and technology in one of the largest science museums to date, and see what happens to the bank's money when it has too much! You will also get the chance to tour the home of the Cubs, see the energetic Blue Man Group, and explore the landmarks of Millennium Park! This is the perfect quick tour for any groups interested in seeing the sights, tasting the flavors, and learning a little bit along the way about the iconic Midwest city of Chicago.
Holocaust Museum - Start your trip off with a sobering yet thrillingly educational trip to the Illinois Holocaust Museum and Education Center, the establishment created in 2009 to preserve the legacy of the Holocaust and its community of survivors through exhibitions, presentations, international collections, and educational programs.
Karkomi Exhibit

- Experience pre-war European life, from the ghettos and concentration camps to liberation and resettlement.
Wrigley Field - Welcome to the famous home of the Chicago Cubs and the host to major league baseball for over 101 seasons, Wrigley Field. Here your group will get the chance to stroll through the home of the Cubs and get a chance to see what happens behind the scenes and maybe even during a game!
Field Tour -

Choose from several different interactive, educational, and school related tours, ranging from career tours, science tours, and ulitmate fan tours!

Cubs Game -

If you're here during a heart-pumping Cubs baseball game, definitely take advantage! This is a great opportunity to see some of the most dedicated sports fans cheer on a highly successful team on their home turf!
Blue Man Group - End your night the right way at this popular Briar Street Theater as
you watch the innovative, energetic, and wildly entertaining Blue Man Group performance. See a unique combination of music, technology, and comedy that creates a form of entertainment that defies categorization and appeals to people of all ages.
Theater Tour-

If you have time be sure to take a look around the Briar Street Theater, the intimate and beautifully designed space that was once used as stables over a century ago.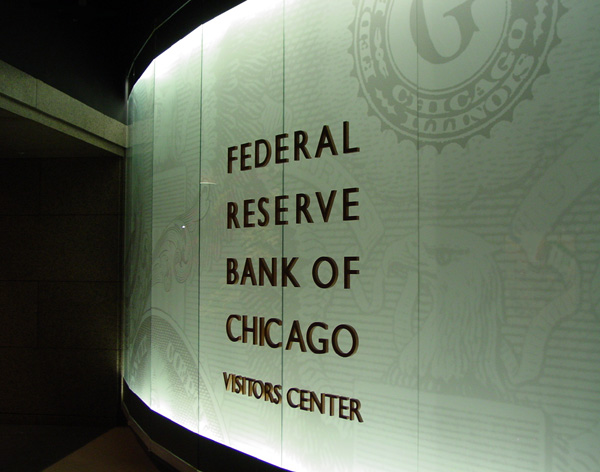 Museum of Science and Industry - Start your second day off at one of the largest science museums in the world, the Museum of Science and Industry. Located on Museum Campus, this museum is the home to over 35,000 artifacts and over 400,000 square feet of hands-on exhibits designed to spark scientific inquiry and creativity.
Brain Food Court -

Fuel up on some much needed brain food as you decide between the many lunch options that are sure to please even the pickiest eater in your group.

Omnimax Theater -

Catch the latest scientific spectacular in this 5-story, domed Omnimax theater that seats and thrills 800 guests at once.
Federal Reserve - Next stop, the Federal Reserve, one of 12 regional reserve banks across the nation that participate in the formulation of monetary policy and provide financial services to depository institutions. Basically, welcome to the money museum, the place where banks go when the have too much money!
Tour -

Enjoy this quick 30 minute presentation about the functions and responsibilities of the Chicago reserve with detailed history information as well as a short video presentation and q&a session.
Millennium Park - Spend your afternoon strolling around this state-of-the-art collection of architecture, landscape design, and outdoor art that serves as the urban park backdrop for hundreds of free cultural programs such as concerts, educational exhibitions, tours, family activities, and al fresco culinary and fitness opportunities!
Cloud Gate -

Take in that iconic city skyline from a different perspective as you admire this famous mirror-like surface of the more commonly called 'Bean' up close and personal!

Jay Pritzker Pavilion -

See the stunning architecture of the eye-popping outdoor bandshell that is the Jay Pritzker Pavilion.

Lurie Gardens -

Explore this 5-acre perennial garden featuring hardwood footbridges and shallow pools that make you forget you're in the heart of the Chicago hustle and bustle.
Bubba Gumps - End your Chicago city sampler at one of the most iconic Chicago
eateries, Bubba Gumps Shrimp Co on the Navy Pier. This family friendly seafood chain serves up the freshest seafood in a fishing boat themed setting, where you can get grilled shrimp, fried shrimp, coconut shrimp, and shrimp gumbo that Lt. Dan himself would be proud of.
Souvenir Shop -

Pick up Forrest Gump soundtrack music, movie memorabilia, and seafood souvenirs at the gift shop before you go!

Food -

Besides all the great and diverse fresh shrimp options, Bubba Gumps also offers award-winning Dixie style baby back ribs and other southern and bbq classics!