3-Day Educational Excursion Trip Chicago
Day 1 You'll See: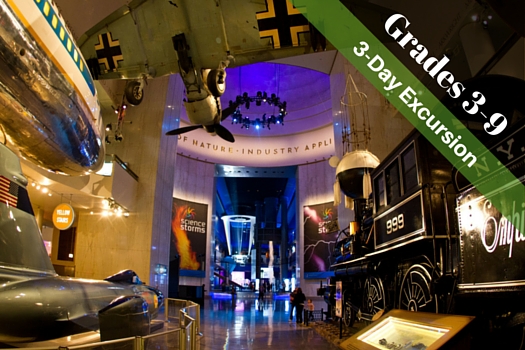 Day 2 You'll See:
Day 3 You'll See:
Get ready for this 3-day educational excursion in one of the most culturally diverse and educationally unique cities in the entire nation! Chicago offers your group the best ethnic dining opportunities, most exquisite historical landmark sites, and overall most impressive groupings of world-class museums in the Midwest. You will have the opportunity to learn, let loose, and make memories in the Windy City all at the same time!
Spend a day exploring the diverse Chicago neighborhoods, spectating some of the best art in the world, or seeing the city from the tallest vantage point in this hemisphere! You will have the opportunity to visit the highly popular Navy Pier, Magnificent Mile, and Millennium Park as well. Get ready for a 3 day trip so fun, you'll forget it's educational!
Chicago Neighborhood Tour - This 4.5 hour tour combines bus travel and foot travel into one of the best and most comprehensive tours in the entire city! Once you've chosen which tour you'd like to take you will be taken around to the distinct communities containing different cultures within, from Ukrainian to Chinese to Puerto Rican!
The City that Trains Built -

This tour puts important city history on rails and provides a unique and fun way to look at trains, tourism, and terminals.

People's Republic of Oak Park -

Located in an active arts community, this tour is full of galleries, shops, and restaurants in the heart of a fun and diverse neighborhood.

Epicurious Chicago -

This ethnic food filled tour paints on a vivid cultural tapestry for your more mature students.
Art Institute of Chicago - Located in the heart of Chicago, the Art Institute is the
perfect place for you to immerse yourself into art, with over 300,000 permanent exhibits, 30 special exhibits, and hundreds of gallery talks and lectures throughout. You'll even see some of the greatest works from Dali, Picasso, and Matisse!
Tours -

Daily professor guided tours help students fully understand the art surrounding them, complete with optional lectures and special dining options!

Research Library -

The research library at the Art Institute of Chicago is one of the finest for art and architecture in the entire country.
Willis Tower - The Willis Tower is the tallest building in the Western Hemisphere, an iconic building that features a nearly invisible support system and attracts over 1.5 million visitors per year. Willis is a premier corporate office building that also holds museum-quality exhibits highlighting the tower and city in general!
The Ledge -

Sitting at 1,353 feet up in the air, this glass box takes guests 4.3 feet out of the Skydeck, giving them never before seen views 50 miles in the distance!
Museum of Science and Industry - Start your second day of educational adventures out at one of the largest science museums in the world, home to over 35,000 artifacts and 400,000 square feet of hands-on exhibits designed to spark scientific inquiry and creativity.
Brain Food Court -

Take a break from all that learning and grab some brain fuel at the Brain Food Court, offering a little bit of something for every taste!

Omnimax Theater -

This 5-story, domed theater shows some of the latest and greatest informational yet fascinatingly immersive and fun video presentations!
Navy Pier - Welcome to the #1 leisure destination in the Midwest, the place where local residents and visitors from around the world come to experience the natural beauty of the lakefront, the urban beauty of the Chicago skyline, and the educational insight of one of the most popular cultural landmarks in the city.
Navy Pier Park -

This is the section of the pier where you can let loose and have some real fun! Ride the iconic Ferris Wheel, Wave Swinger, or play a round of mini-golf!

Crystal Gardens -

Learn about some of the most beautiful tropical plants at this indoor, 1-acre botanical garden. Live palms, jumping fountains, and tons of foliage decorate nicely this 6-story glass atrium filled with horticultural beauty and facts!
Shoreline Sightseeing Tour - Explore the rich history, famous architecture, and iconic
skyline of the Windy City on this water taxi tour! There are several touring vessels, water taxis, and different tours that you can choose from, depending on what you are most interested in within this pleasantly immersive city.
Lake Route -

This route takes you by the best learning centers, including world-class museums, aquariums, and planetariums.

River Route

- This tour will take your group to the major hubs of activity throughout the city, such as Navy Pier and Willis Tower.

Architecture Tour

- Gaining the most popularity, the architecture tour will take you to see over 40 iconic Chicago buildings and let you see them from a unique perspective from the water!
Magnificent Mile - End your day at the Magnificent Mile, one of the top 10 destinations in hospitality, dining, and retail in the entire world. Enjoy this 13 block, full mile stretch of seemingly endless shopping that is considered one of the most vibrant and successful culture filled communities in the nation.
Dining -

Your group will find anything their respective hearts (and stomachs) desires on this massive avenue, from ethnic to casual to gourmet! There are even many fast food options!

Landmarks -

Enjoy the iconic buildings within this community including the Historic Water Tower, DuSable Bridge, and Willis Tower!
Millennium Park - Start day three out with a nice stroll through one of our nation's largest and most loved urban parks, the 25-acre Millennium Park. This urban array of fun things to do and see includes a state-of-the-art collection of architecture, landscape design, and art and serves as the backdrop for hundreds of free cultural programs.
Lurie Gardens -

A 5-acre 'city in a garden' will allow your group to walk through gorgeous perennial plants, hardwood footbridges, and shallow pools, creating a true urban oasis.

Cloud Gate -

Also known as 'the bean', this iconic photo hotspot provides a distorted mirror-like surface that lets you see the city skyline from a different angle!
Field Museum - Explore 4.6 billion years of history under one large roof at this, one of the world's greatest natural history museums. Here your group can travel around the world and back in time all at once by viewing the over 20 million specimen, from early fossil to current cultural artifacts.
SUE the T Rex -

One of the most popular exhibits, SUE is the largest, most well-preserved, and most complete T Rex skeleton at 42 feet long and 13 feet tall. Your group will love taking a photo by this famous dinosaur!

Underground Adventure -

Shrink to 1/100th of your own size as you get a true bugs-eye view of the world and explore the immersive environment of soil chambers and worm tunnels.
Shedd Aquarium - What better way to end your educational Chicago experience than at
America's first aquarium, a diverse global animal collection that is surrounded by eye-popping architecture. This stately marble building holds over 32,000 animals,hundreds of award-winning exhibits, and tons of in depth hands-on activities!
Caribbean Reef -

Get the quickest 360 degree tour of a reef community possible as you travel around the 90,000 gallon tank full of green sea turtles, sting rays, eels, and sharks.

Polar Play Zone -

Let loose and have some fun as you play and learn about arctic aquatic adventures around the world.